Cheese & Bean Enchiladas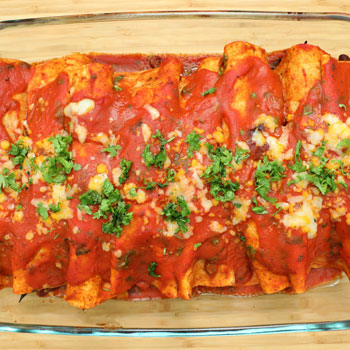 Use your beans... and your cheese. These gourmet enchiladas are packed full of flavor. And you can always add veggies, beef or any other ingredients of your choice if you're looking for a bigger enchilada bang.



8 large corn tortillas




1 tsp. oil




1 green pepper, chopped




2 small onions, chopped




3 tbsp. chili powder




3/4 tsp. garlic powder




3/4 tsp. onion powder




1 2/3 cup cooked kidney beans




1/2 cup low fat cottage cheese




10 3/4 oz. can tomato puree or sauce




2 oz. grated Monterey Jack cheese





If tortillas are hard to roll up; they may be softened with steam. To steam, place two to three tortillas at a time in a strainer or a piece of foil bent over a bowl like shape. Place them over, not in, boiling water. Cover and steam 2 to 3 minutes, just until softened. Cook onion and green pepper in oil until soft. Drain beans and mash. Add 2 tbsp. of the chili powder, ½ tsp. of the garlic powder, 3 tbsp. of the tomato puree or sauce, and the mashed beans and cottage cheese to the onions and green pepper. Mix well. Place 3 tbsp. of the bean and cheese mixture on each tortilla. Roll tortillas up and place in a baking dish. In a small bowl, combine remainder of tomato puree, remainder of the garlic powder, and all the onion powder. Stir well. Pour the seasoned tomato puree or sauce over the enchiladas, and top with grated cheese. Cover and bake at 350 degrees for 20 to 30 minutes, until heated through and cheese on top are melted.
Tacos are a staple of Mexican food. Those of us who love to eat Mexican food regularly include tacos in our weekly menus. Sometimes it is nice to keep concept and vary the theme so that every taco night isn't exactly the same. These twists on taco night will keep you and your dining companions interested and hungry for more.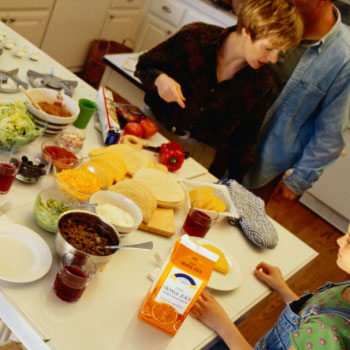 Tortillas aren't the only traditional "container" for tacos. Navajo fry bread is a great taco alternative to hard taco shells.
4 cups of flour

2 teaspoons sugar

2 teaspoons salt

8 teaspoons baking powder

1 cup or more of warm water

Vegetable oil

Additional flour
Lightly flour a cutting board or clean surface to work your dough.
Mix all of the dry ingredients together in a large bowl. Form a hole in the middle of the mixture and pour in 1 cup of water. Mix the ingredients together using a large spoon to make the dough. You may have to add more water to make the dough work. Don't use an electric mixer.